Your roof is one of the essential parts of your house, and it's much easier to hire a professional for repairs than you may think. A trained professional will be able to identify what's wrong with your roof quickly and efficiently so that you don't have to worry about coming home from work to find out there was a leak in your living room ceiling all day.
They can also help you keep an eye on any other problems that might happen as time goes by, such as shingles gradually wearing away or damage caused by storms.
Why You Shouldn't Repair Your Roof on Your Own
The following are some of the reasons why performing a roof replacement yourself is a bad idea:
Not Enough Information
You don't have proper knowledge of roofing, which means you might make mistakes like failing to replace the roof's ventilation system or installing the wrong roof tiles.
You won't be able to obtain roofers' expertise, regardless of how much study you do, so it's best to entrust this complicated job to the roofing professional. Roofing is a delicate subject, and it's better to get it repaired the first time correctly rather than experimenting with it.
Time-consuming
Ideally, doing your roof the first time may save you money; however, the effort required will be enormous. Before they begin, most people who attempt to reroof know very little about it. The learning curve is steep, and no matter how long you work on your roof, errors can occur that you can't fix until the top is completely finished.
When thinking about whether to do the roof yourself, consider all of your alternatives. Hiring a roofer may not appear to be as expensive, especially when you consider the time you'll save when you buy all of the required materials and equipment.
May Cause Accidents
Roofers are accident-prone. Every day, folks fall off of roofs, and many are harmed or perish due to their injuries. If you're careful when walking on your top, keep in mind that you'll be learning a new skill and that the bulk of your attention will be focused on reroofing. You could slip and fall off the roof if you look away for even a second.
Fall protection equipment is crucial when roofing. You have to avoid being on the roof without it, even if you are only nailing down shingles or removing old roof tiles.
Perks of Hiring a Professional Roofing Contractor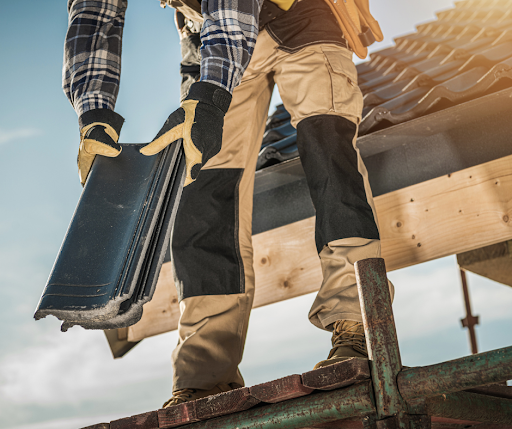 We recommend hiring a professional to help with an aspect of your home as essential as your roof. Here are some reasons why:
Proper Knowledge
Roofing professionals have been in this industry for a long time, and they have the proper knowledge. They can identify roof problems quickly, saving you money because it won't take them very long to fix your roof.
Fast Repairs
Your roof may be damaged by wind or heavy rains caused by hurricanes, tornadoes, blizzards, or other bad weather. You don't have to wait for your roof to start leaking before you get it repaired. The top will be fixed as quickly as possible by the roofing contractor so that damage doesn't spread and cause more problems in the future.
Less Stress
You'll feel much less stressed knowing that roofers are taking care of everything from beginning to end. They have the necessary equipment, so you don't have to worry that they'll need any of your more expensive tools or roofing supplies.
More Information
Roofers are professionals at roof repair and replacement. If you're unsure about which type of roof is best for your home, roofers can help you pick out something that will make your roof look good and last for many years.
Guarantee on Replacements or Repairs
Roofing contractors are willing to offer warranties for their work. It may be less expensive than getting a new roof if you're having your roof repaired because the contract will apply only to materials and labor. A one-year guarantee should be sufficient; however, make sure that any repairs or replacement components warrantied under this policy include everything being replaced.
Cost-saving
Hiring a professional roofer can ensure roof repair or replacement for less. They have the experience and knowledge to avoid costly mistakes that could cost more in the end if you had attempted roofing repairs yourself.
Your Search for a Professional is Over!
If you're someone who has been putting off the idea of hiring a professional for your roofing project, now it's time to stop delaying and make that call.
The trained professionals at Secured Roofing will be able to identify what's wrong with your roof quickly and efficiently so that you don't have to worry about any issue with your roof.
Get in touch today by calling us! We can help get you back on track with finishing this important repair job before winter hits.